More flyers have access to Wi-Fi than ever before
In-flight Wi-Fi has come a long way since its inception a decade ago. New advances in technology mean more flyers have access to Wi-Fi than ever before. Routehappy´s 2017 Wi-Fi Report confirms that more aircraft are connected than ever before, including 11 airlines that now offer in-flight Wi-Fi for the first time.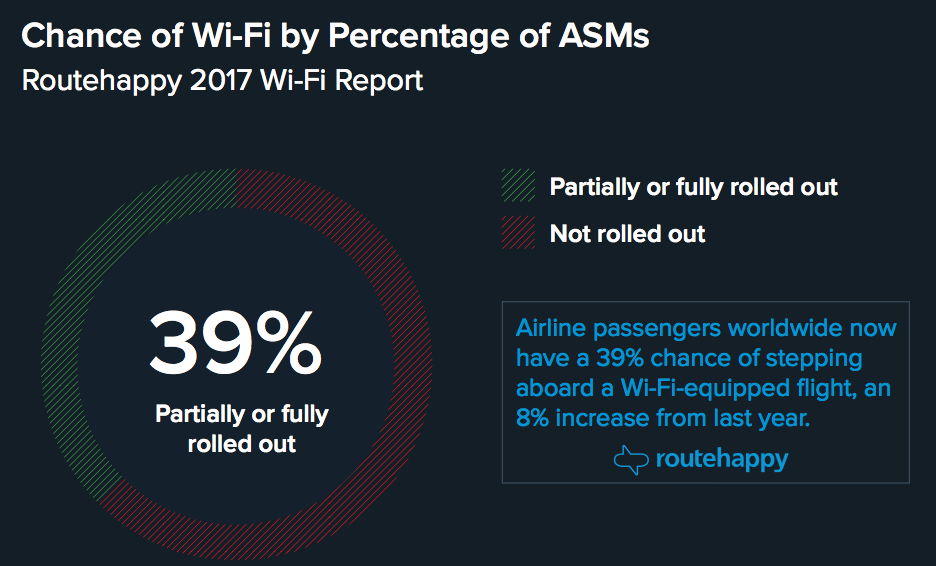 As of January 2017, 39% of available seat miles (ASMs*) worldwide have at least a chance of Wi-Fi on board, an 8% increase over last year. The ASMs with at least a chance of Wi-Fi jumps to 83% when looking strictly at U.S.-based airlines, a 6% increase over last year.
iPass Global WiFi is also available on more than 20 international airlines, including Air Berlin, All Nippon Airways, Delta, Lufthansa, Air France, Singapore Airlines and more. In addition you can connect on 7.500 domestic daily flights in the United States.
Back on the ground you can use premium internet connections at airports, hotels, resturants, trains and outdoor zones in 120 countries. Learn more about iPass Global WiFi services here.
Flexinets is the leading iPass supplier in the Nordic region, with over 100 corporate customers. This covers major global industrial corporations, financial institutions, governmental bodies and trading companies, ranging in size from 50 000 users down to a few, located all over the world. The common denominator is international travel, and a requirement for productivity on the road and structured control of mobility cost.
*ASM – A standard industry measure of an airline's passenger carrying capacity; it is the number of seats for sale multiplied by the number of miles flown. Example: A 200-seat aircraft operating a 2,500-mile flight offers 500,000 ASMs.
/wp-content/uploads/2017/02/airport-airplanes-gates-flight-line-163771.jpeg
1237
2200
Flexinets
https://www.flexinets.se/wp-content/uploads/2016/10/flexible-networks-nordic_logo-genomskinlig-300x77.png
Flexinets
2017-03-01 14:46:14
2017-10-31 19:13:55
More flyers have access to Wi-Fi than ever before